New Hair Color Craze For Children of All Ages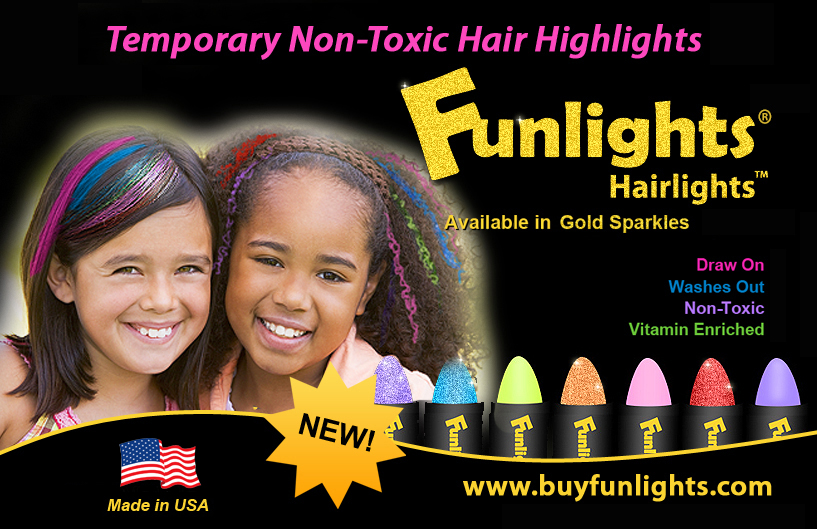 Funlights® …Fantasy…Fashion…Fun…For Less
Interested in the chalking trend and wish you had an easy solution for temporary, affordable, at-home hair streaking in fun colors? Now you do, with Funlights® Hairlights™ a new and innovative patent-pending, temporary draw-on hair color that has all the fun of chalking but none of the drawbacks created by award-winning inventor Andrea Rose®. Chalking has become a trend in its own right, being used by celebrities like Lauren Conrad and getting press attention by Diane Sawyer on "Nightline." Bright streaks and pastel ends are hair trends that have caught on with women of all ages, showing up on high-fashion runways like Prada, as well as on celebrities like Selena Gomez and Katy Perry. But creating hair streaks at home with chalk has its downside. It's messy, producing rainbow-colored fingers and stained sinks.
Funlights® Hairlights™ has taken chalking to the next level with its unique and innovative concept, construction, formulation, and design. Funlights® is simple and easy to use, allowing you to draw color streaks on most hair types and colors with no fuss or mess. It is a temporary color that can be removed easily with shampoo or soap and water. Funlights® is a non-toxic product, made in the U.S.A. with vegetable-based dyes, and contains vitamins A, C, E, and K. With a wide range of colors, Funlights® creates a variety of fun hair looks.
For your kids' Saturday-night sleepover, a new way to wear team colors at games, or for those special birthday parties. Funlights® lets you get creative with color without any commitment!
About Andrea Rose®
Andrea Rose® is an award-winning inventor, fashion expert and founder of the ARStyle™ Institute (www.arstyleinstitute.com), whose patented virtual fitting room changed the face of e-retail. Licensed originally to My Virtual Model and used by such notable online retailers as Lands' End, H&M and Sears. With her fashion self-help books and workshops, she has dedicated her career to providing women with information and tools that empower them to be their own fashion and beauty expert. Most recently, she has entered the world of beauty with her innovative array of products.